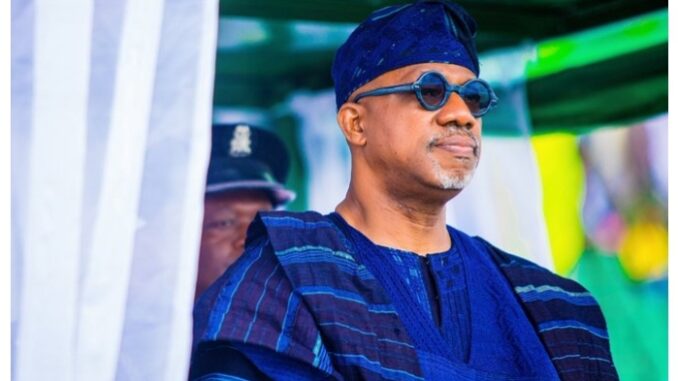 By Tambaya Julius, Abuja
Governor Dapo Abiodun of Ogun State has taken decisive steps to alleviate the impact of fuel subsidy removal on his state's populace.
In light of the prevailing economic conditions, his administration has introduced a range of measures to support public servants and citizens during these challenging times.
To ease the burden of subsidy removal, the government has approved a cash palliative of N10,000 for every public servant, including pensioners, for the initial three months, starting from July 2023.
This financial assistance aims to help workers navigate the economic shocks resulting from the fuel subsidy removal.
Recognizing the invaluable contribution of healthcare workers, Governor Abiodun has also sanctioned hazard allowances for all health and medical personnel in the state.
This measure acknowledges their dedication and commitment during these trying times.
In addition to other benefits, the government has approved a peculiar allowance for public servants.
This financial assistance aims to provide further support to those serving the state diligently.
To motivate and uplift the spirits of public servants, the governor has ordered the immediate release of promotion letters for the years 2021 and 2022.
Furthermore, March and April 2023 leave bonuses will be promptly paid to public servants, offering them some relief.
Pensioners will now receive their gratuities on a quarterly basis, thanks to the governor's directive for immediate cash-backing of these payments.
This move ensures that retired civil servants receive regular financial support.
To reduce the impact of fuel price hikes, all Ministries, Departments, and Agencies have been instructed to devise ways to ensure that 20% of their staff can be off-duty daily.
This measure aims to ease the financial strain on public servants.
Governor Abiodun's government will commence the distribution of food palliatives to vulnerable members of society.
The Gateway Trading Company has been tasked with establishing distribution outlets across the state, where items will be sold at pre-fuel price increase rates.
In a bid to support the agricultural sector, fertilizers and other farm inputs will be made available to farmers at subsidized and controlled prices.
This initiative aims to bolster agricultural production and alleviate the impact of fuel price deregulation on farming communities.
To curb transportation costs, the government will initiate the conversion of State Mass Transit buses, staff buses, and public transportation buses to Compressed Natural Gas (CNG).
This move will bring down transportation expenses to levels seen before fuel deregulation.
The government, in collaboration with local governments, Community Development Associations, and Community Leaders, will identify three roads requiring immediate intervention.
This infrastructure development effort is part of the palliative programs to enhance transportation and boost local economies.
Governor Abiodun's administration is committed to strengthening production capacity and generating employment opportunities.
To achieve this, special schemes will be implemented to support MSMEs, empowering them to contribute significantly to the state's economic growth.
These timely interventions, coupled with strategic support for various sectors, will undoubtedly bolster the state's resilience during these challenging times.