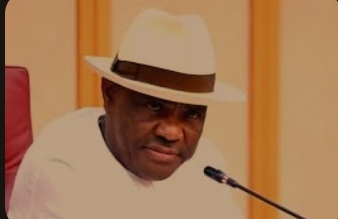 By Tambaya Julius
In a dramatic twist of events, Nyesom Wike, the Minister of the Federal Capital Territory (FCT), has strongly urged Atiku Abubakar and Peter Obi to reconsider their decision to challenge the Presidential Election Petition Tribunal's (PEPC) verdict.
The PEPC recently affirmed the victory of Bola Tinubu from the All Progressives Congress (APC) in the 2023 presidential election.
The Independent National Electoral Commission (INEC) declared Bola Tinubu as the winner of the 2023 presidential election, marking it as one of the most fiercely competitive elections in Nigeria's history, with a staggering 8.79 million votes.
Atiku Abubakar secured the second position with 6.98 million votes, closely followed by Peter Obi, who garnered 6.1 million votes.
However, the PEPC, led by Justice Haruna Tsammani, delivered a significant blow to Atiku and Obi by dismissing their petitions.
The key rationale behind this dismissal was the petitioners' inability to provide substantial evidence of election irregularities and Tinubu's alleged disqualification.
In the aftermath of the PEPC verdict, Atiku Abubakar and Peter Obi announced their intention to challenge the decision at the Supreme Court.
This move has sparked intense debates across the nation, with many eagerly awaiting the next legal battle in this high-stakes political drama.
Nyesom Wike, a legal expert, offered a candid perspective on the PEPC verdict. He asserted that the PEPC merely "affirmed" the collective will of Nigerians.
Wike went on to commend the PEPC for its meticulous handling of the case, highlighting the panel's exhaustive examination of preliminary objections, motions, objections on documents, and substantive issues during the proceedings.
In a critical remark, Wike accused the opposition candidates, Atiku and Obi, of relying heavily on propaganda and social media to bolster their cases before the PEPC, rather than presenting concrete evidence and facts.
He argued that this approach ultimately contributed to their legal defeat.
Wike didn't shy away from pointing out what he perceived as Peter Obi's hypocrisy.
He noted that when Obi faced a similar predicament in the past, specifically in 2007 when he was removed from his position as governor of Anambra State, Obi did not criticize the judiciary.
Instead, Obi successfully reclaimed his mandate through the Supreme Court.
Wike challenged Obi to clarify whether he resorted to bribery during that process, questioning the inconsistency in his stance on the judiciary.
In a surprising revelation, Wike disclosed that he supported Bola Tinubu in the presidential election.
He justified his endorsement by asserting that he believed the Labour Party (LP) candidate, Peter Obi, stood little chance of winning the presidential election scheduled for February 25.