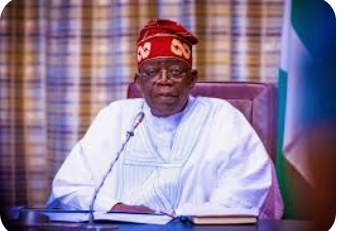 By Tambaya Julius
President Bola Ahmed Tinubu's inaugural Federal Executive Council meeting marked a significant moment in Nigeria's political landscape.
Held at the Aso Rock presidential villa, this gathering brought together recently sworn-in ministers, setting the tone for a tenure filled with promise and ambition.
In his opening address, President Tinubu extended heartfelt congratulations to the newly appointed ministers, emphasizing the gravity of their roles as servants of the people.
He underscored the collective responsibility of the cabinet and likened it to a symphony, with the ministers as conductors and himself as the bus driver, steering the nation towards progress.
The President wasted no time in highlighting the weight of expectations resting on their shoulders.
He acknowledged that Nigerians hold high hopes for this administration, especially in challenging times.
He stressed the need for homegrown solutions and a comprehensive re-engineering process to ensure resource availability and economic prosperity for all.
President Tinubu, a staunch advocate for the possible, urged the ministers to embrace a mindset where "impossible" holds no place.
He spoke of Nigeria's untapped talent and potential and expressed unwavering faith in their capacity to steer the country towards transformation.
With a backdrop of soaring unemployment rates, he emphasized the ministers' pivotal role in turning the tide.
Security emerged as a critical pillar of the President's vision.
He articulated a profound truth: without security, investment remains elusive. In a global context where leaders clamor for food security, he charged the ministers to embark on a persuasive mission to attract investors.
The time to do so, he declared, is now.
President Tinubu urged the ministers to perceive themselves as integral members of a dedicated team.
He stressed the importance of unwavering focus, emphasizing that every facet of governance holds equal significance.
He underlined the government's top priorities, emphasizing their collective responsibility in achieving economic growth, ensuring food security, and leveraging Nigeria's abundant resources.
In closing, President Tinubu extended an open invitation for dialogue and corrections, acknowledging that perfection is divine.
He encouraged the ministers not to shy away from making decisions, for leadership inherently involves such choices.
He painted a vivid analogy, likening their role to fetching water from a dry well, yet he expressed his readiness to captain this journey, steering Nigeria towards a brighter future.
The nation watches with anticipation, hopeful for the transformation that lies ahead.