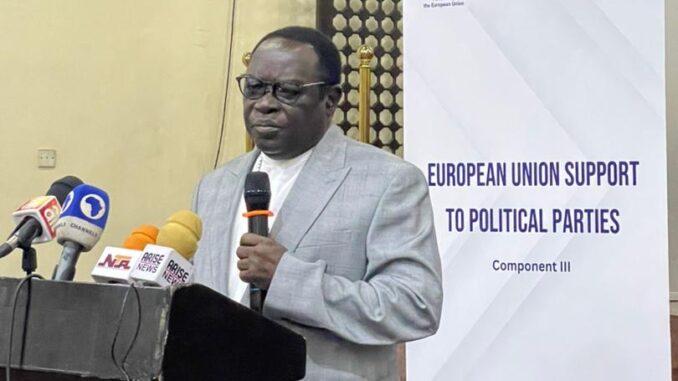 By Tambaya Julius
In a remarkable achievement, Bishop Matthew Hassan KUKAH, the revered leader of the Catholic Diocese of Sokoto and the visionary Founder of the Kukah Centre, has been bestowed with the prestigious 2023 Mundo Negro Fraternity Award.
The official announcement came through an exclusive statement by Fr. Atta Barkindo, the Executive Director of The Kukah Centre in Abuja.
This momentous news arrived via a heartfelt letter from Fr. Enrique Bayo Mata, a devoted priest of the Comboni Missionaries and the Director of the esteemed Madrid-based Spanish Magazine, Mundo Negro.
In this letter, Fr. Bayo Mata illuminated the annual tradition of Mundo Negro – the "Encounter with Africa," during which they shine a spotlight on distinguished African personalities or institutions that have significantly contributed to the advancement of a brighter world and a thriving African continent.
The letter underscored their profound admiration for the exceptional work carried out by the Kukah Centre, a testament to your vision and leadership.
This prestigious accolade, accompanied by a substantial cash prize of Ten Thousand Euros (€10,000), will be officially presented to Bishop Kukah in Madrid on February 3, 2024.
Fr. Atta Barkindo, speaking on behalf of the Kukah Centre, expressed deep gratitude for this profound expression of appreciation for their Founder's remarkable contributions.
He stated, "We extend our heartfelt congratulations to Bishop Kukah and express our sincere gratitude to the creators of this Award.
We commit to using this recognition as a powerful catalyst, propelling us to intensify our efforts in championing the ideals epitomized by Bishop Kukah, thus contributing to the betterment of our world through the tireless endeavors of the Kukah Centre."