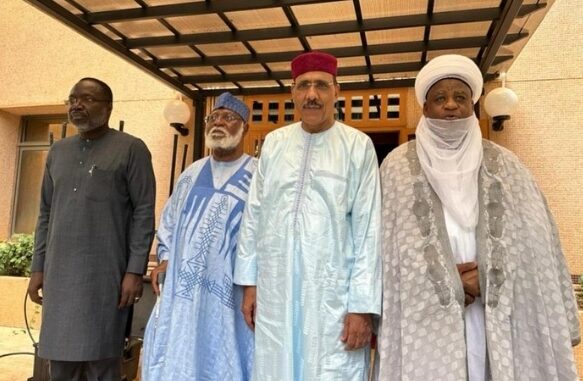 By Tambaya Julius
In a diplomatic effort of utmost importance, retired General Abdulsalami Abubakar, the former Nigerian Military Head of State, spearheaded a high-level delegation from the Economic Community of West African States (ECOWAS) on a mission to meet with President Bazoum of Niger.
Their objective: to seek a peaceful resolution to the tumultuous situation plaguing the West African nation.
Upon their arrival in Niger, the delegation was warmly received by Prime Minister Ali Lamine Zeine at the airport, who then escorted them to the presidential palace.
There, they engaged in a critical discussion with General Abdourahamane Tchiani, the leader of the junta, and his team, which lasted approximately 90 minutes.
Subsequently, the delegation had a crucial meeting with President Mohamed Bazoum.
After their intense deliberations, General Abdulsalami addressed the press and shared the essence of their meeting.
He stated, "We met with President Bazoum, and he provided us with a detailed account of the events that transpired, shedding light on the hardships he currently faces.
Our responsibility is to convey this information to ECOWAS leaders, opening the doors for constructive dialogue aimed at a sustainable solution."
General Abdulsalami refrained from disclosing specific details of their discussion with the ousted president.
However, it is worth noting that, in prior weeks, CNN reported a series of text messages from Bazoum to a friend in which he lamented being "deprived of all human contact," with no access to food or medical supplies.
Bazoum's predicament extended to a lack of electricity, a condition affecting all Nigeriens following Nigeria's decision to cut off electric power in response to the coup.
As a result, all perishable food provided to him had spoiled, leaving him with only dry pasta and rice for sustenance.
In a recent development, the junta granted Bazoum access to medical care, providing some hope in this dire situation.
This diplomatic mission spearheaded by General Abdulsalami Abubakar stands as a beacon of hope for Niger, striving to navigate towards a peaceful resolution amidst challenging circumstances.