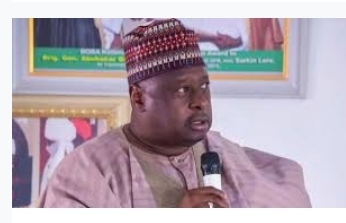 By Tambaya Julius
In recent times, we have witnessed a disturbing surge in violence, kidnappings, and wanton destruction perpetrated by these criminal elements across several Local Government Areas (LGAs).
One of the most distressing incidents occurred in Fadan Kamantan, where the Catholic residence of Rev. Fr Emmanuel Okolo was targeted.
Fortunately, he managed to escape along with another priest, but tragically, we lost a Seminarian in the attack.
The bandits not only set fire to the Refectory but also left a scar on our community.
In Ikara LGA, the tranquillity of Saya Saya village was shattered during a late-night Isha prayer at their mosque.
Eight innocent lives were mercilessly taken in this heinous act of violence. Such incidents shake the very foundations of our society.
Further atrocities unfolded in Matarawa and Musawa, within Kudan LGA, where two individuals lost their lives, and valuable cattle were ruthlessly stolen.
The toll on our communities and livelihoods is immeasurable.
In this moment of grief and sorrow, we extend our heartfelt condolences to the Parishioners of St Raphael Catholic Church in Fadan Kamantan, the Saya Saya community in Ikara LGA, and the people of Kudan LGA.
Your pain is our pain, and together, we stand united against this menace.
The criminality we face today is reprehensible and should not be tolerated in any society.
We join our voices with countless others in calling upon our dedicated security personnel and those constitutionally tasked with safeguarding lives and property to intensify their efforts.
We implore them to create an environment where safety is paramount.
It is disheartening to see lives and valuable assets lost, especially in these trying economic times.
We must collectively reject this grim reality and work towards a safer future for our state.
Let us, as a united community, rise against the forces of evil that threaten our peace and security.
Together, we can ensure that this scourge is defeated through our unwavering unity and determination.
Rt Hon Isa Mohammed Ashiru.