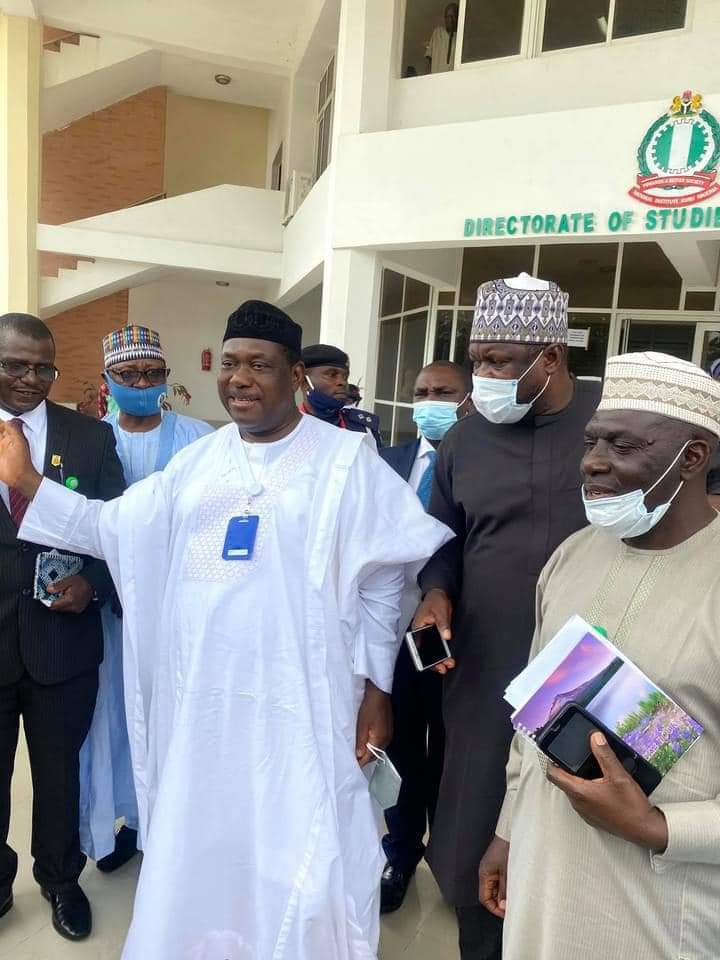 By Maiwada Dammallam
The news of the appointment of the former governor of Benue state, three terms Senator and the immediate past Minister of special duties as the new Secretary to  government of the Federation came as a big surprise to many albeit a surprise as delightful as an unexpected Christmas present. The appointment was a masterly performance by President Tinubu, a political tactician whose adroitness always stands him out as a politician and an administrator. Beside being a round peg in a round hole, SGF Akume is a ready answer to the age long question of balancing the ethno-religious and regional hegemony of Nigeria, perhaps, the most delicate aspect of the schedule of a Nigerian president.
Zeroing on George Akume for the coveted office of the SGF among many eminent Nigerians was a systematic and a courageous departure from the past beside being a pragmatic first step towards the development of Nigeria. This is not unexpected considering President Tinubu's commitment to excellence and penchant for authoring lasting legacies. Akume's appointment is quite confirmatory of Tinubu's avowed subscription to good governance and quality representation. A popular grassroots politician, a former two terms Governor, three terms senator and a former. With a bachelor's degree in Sociology and a master's degree in Labour Relations, Tinubu couldn't settle for a better choice than Akume for the office of the SGF which is more or less the engine room of the government.
As a politician, SGF Akume's name is engraved in the APC hall of fame for his laudable contributions to the growth of the party, right from its formative years to now that it has taken over as the ruling party in Nigeria. His influence went far beyond the borders of Benue State where even without his party, the APC, in power, he kept PDP on its toes and with bloodied nose all through the tragic administration of former Governor Samuel Ortom (PDP). Not even the added advantage of having Iyochia Ayu, the erstwhile despotic PDP National Chairman, could slow down the intimidating influence of SGF Akume in Benue State and the middle belt region in general. But for his resilience and perseverance, APC might've died a slow asphyxiating death in the in the middle belt as envisaged by Ortom and Ayu. He persevered and kept the APC house not only alive but kicking. While it lasted, he was some sort of a watering hole for members of the APC in Benue and neighboring states.
This may explain why Akume's nomination is being celebrated across party lines in the region; a clear indication that the entire region is pleased with, expectedly, Benue State being the epicenter. For close to 2 decades Akume has been the rallying point of Benue politics with tentacles reaching the remotest enclaves of the state; touching live and making a difference. It's not accidental that he was the first Governor to have completed two terms in office in Benue State, the state's diversity, political complexity, intimidating opposition warlords and all. It's with a dint of hard work, resilience, perseverance and genuine commitment to the people.
President Tinubu deserve accolades for walking his talk. When campaigning he promised to bring on board people with the experience, panache, commitment, intelligence, versatility and ability to deliver given assignments for the over all benefits of the people without compromising the best interest of Nigeria. This cap fitted Akume like a glove. Remaining a recurring decimal in the middle belt politics for decades; negotiating safely through political land mines and booby traps is a testament of Akume's dexterity and cosmopolitanism.
Of course, good leaders don't just fall from the sky. They are self-made; molded by self-imposed disciplinary rules and regulations. And it takes one to identify one. President Tinubu and SGF Akume could be said to be a match made in heaven. It's a choice made on the basis of track record, trust and familiarity. President Tinubu's obsession and or even addiction to quality service delivery must have influenced his decision to pick Sen. Akume as his SGF and no doubt there couldn't be a better choice that could fit President Tinubu's aspiration to rejuvenate, equip and fast track Nigeria's journey to nationhood.
SGF Akume is not one to learn on the job having successfully ruled Benue State, a miniature Nigeria, for two terms without hitches and with a very enviable record to show for it. A 3-term stint in the upper chamber of the National Assembly and a 4-year ministerial term must have equipped him with the versatility needed for the job of an SGF. His appointment is indicative of President Tinubu's dedication to all Nigerians, regardless of their religious, regional or ethnic backgrounds. It reinforces his steadfastness in his pledge to unite Nigeria and ensure equal quality representation. President Tinubu deserve commendation for maintaining his trademark commitment to meritocracy. It's a deviation from the primordial tendencies that kept Nigeria moving in a hopeless circle of retardation.
Now that President Tinubu is done with perhaps the trickiest appointment; that of the SGF, and both he and SGF Akume look set to hit the ground running, I think Nigerians should put behind inimical tendencies of exploiting religious and regional fault lines to resolve political setbacks to have enough time and energy to probe governance and ensure quality service delivery. SGF Akume is already appointed and it's very obvious he's here to stay. Then, it's going to be more beneficial for all and sundry to rally behind and support the new SGF to give his best shot ever for Nigeria. As it was before, so it is today; Nigeria is for us to make of mar. Certainly we could make Nigeria by intelligent and patriotic choices or mar it by silly egocentric choices.
The newly sworn-in Tinubu administration inherited myriad of problems mostly leftovers from the days of the PDP which the immediate past administration couldn't resolve satisfactorily President Tinubu is leaving no one in doubt about his determination to make Nigeria a better place than he met it. His pragmatic approach to biting issues like the swift decision of fuel subsidy removal is indicative of his excellent grasp of the Nigerian situation. We owe it to Nigeria to support him and his carefully handpicked appointees.