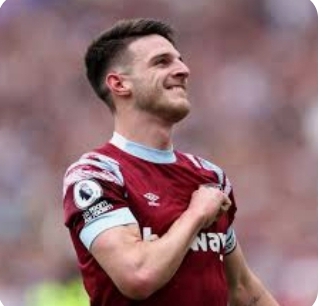 By Tambaya Julius, Abuja
In a significant move, Arsenal Football Club has officially confirmed the signing of Declan Rice, the talented English midfielder, from West Ham United.
The deal, valued at £100m with an additional £5m in add-ons, marks a turning point for both the player and the club.
Expressing his sentiments, Rice penned an open letter to the devoted Hammers fans, acknowledging the difficulty of his decision to leave the club he has been with for several years.
However, the opportunity to be part of Arsenal's promising trajectory proved too enticing to resist.
Rice, now 24 years old, commits to a five-year contract with Arsenal, which includes the option for an additional year.
His arrival bolsters the Gunners' squad, aiming to build on their impressive second-place finish in the previous Premier League season.
Arsenal's ambitions have been further fueled by the recent additions of Germany's Kai Havertz from Chelsea in a £65m deal and Netherlands' defender Jurrien Timber from Ajax, with a fee that could rise to £38.5m.
The decision to pursue Rice was driven by his exceptional abilities and proven track record in the Premier League, both with West Ham and the England national team.
Arsenal manager Mikel Arteta spoke highly of the midfielder, emphasizing his talent, experience, and leadership qualities.
Having previously captained West Ham and lifted a European trophy, Rice's achievements exemplify his potential to thrive at Arsenal.
This signing follows a series of negotiations between Arsenal and West Ham, with the Gunners ultimately succeeding on their third bid.
Earlier offers fell short of West Ham's initial £100m asking price, prompting Manchester City, the reigning Premier League champions, to withdraw their pursuit after a £90m offer was rejected.
The transfer fee of £100m equals the sum that City paid Aston Villa for Jack Grealish in 2021, solidifying Rice's status as one of the most valuable players in the league.
It is worth noting that the current record for a Premier League transfer stands at £105.6m, set when Chelsea acquired Enzo Fernandez from Benfica in January 2023.
The market has been abuzz with significant moves, including Jude Bellingham's transfer from Borussia Dortmund to Real Madrid for an initial £88.5m, a deal that could potentially reach £115m with add-ons.
Rice's journey in football began when he joined West Ham at the age of 14, following his release from Chelsea's academy.
His dedication and talent propelled him to sign his first professional contract with the Hammers in December 2015.
He made his senior debut as a substitute against Burnley on the final day of the 2016-17 Premier League season and secured his full debut in August of the same year, starting against Southampton.
Rapidly rising through the ranks, Rice assumed the captaincy at West Ham after Mark Noble's retirement in 2022.
In his final season with the London-based club, he was honored as the Europa Conference League's player of the season, leading West Ham to their first major trophy in 43 years.
Moreover, Rice boasts an impressive international record, having represented England in 41 matches, including all five games during the previous year's World Cup.
As Arsenal welcomes Rice into their ranks, the club is eager to harness his skills and experience to propel them to new heights in the Premier League.
With a strengthened squad and the guidance of manager Mikel Arteta, Arsenal's fans eagerly anticipate an exhilarating season ahead.