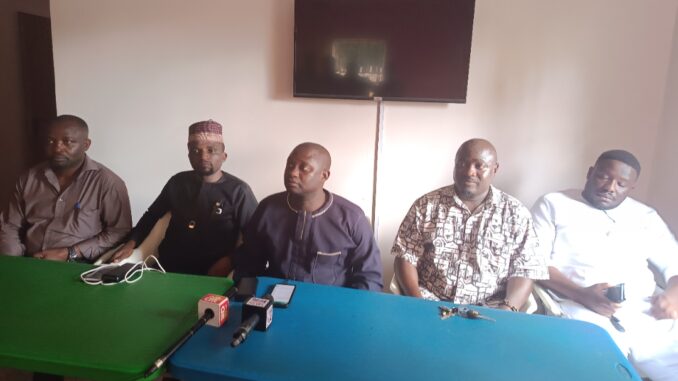 A coalition of Southern Kaduna Groups has called on President Bola Ahmed Tinubu to appoint a minister from their area in order to dislodge the dominance of the People's Democratic Party (PDP).
According to the youths, following the refusal by the Senate to confirm the former Governor of the State, Malam Nasir el-Rufai, and his subsequent withdrawal, added that his replacement should come from Kaduna South in order to balance the political equation.
Speaking at a press conference in Abuja, the leader of the group, Engr Ambi Georfrey said appointing someone from Southern Kaduna will be for the best interest of the Tinubu's administration.
"We wish to join other well-meaning voices from the state in calling for the nomination of Dr Abdulmalik Durunguwa as a Minister from Kaduna State.
"This is because of his outstanding record of service in both the public and private sectors, as well as his years of uncommon service to humanity, particularly in the areas of peace-building and community development.
"During his tenure as the first Chief Executive of the Kaduna State Emergency Management Agency, Adviser to the governor of Kaduna State, He also served as member contact and mobilization north west of the Tinubu Campaign council 2023, and is presently National Commissioner with the National Population Commission, among other political caps and appointments that saw him utilise those opportunities to impact lives, build bridges, entrench harmonious living, and deliver on his mandate without bias.
"His appointment, therefore, by Mr President, if considered will go a long way in closing the ever-widening gaps of religion and ethnicity for which el-Rufai was rejected by the Senate.
"It is also a known fact that Dr. Durunguwa, is, at the fear of being immodest, the single most potent force that has continued to sustain and expand the influence of the APC in Southern Kaduna. His choice, therefore, would ultimately lead to breaking new grounds and the subsequent overthrow of the PDP in the zone," the youth said.
"We have no doubts that the addition of Dr Durunguwa to Tinubu's administration would be valuable to the administration's programme of renewed hope.
"We also want to use this medium to call on our amiable governor, His Excellency, Sen. Uba Sani, Speaker of the House of Representatives, Hon. Tajuddeen Abbas, and all other relevant stakeholders in the state to support Durunguwa's selection in the spirit of equity and justice to the southern senatorial zone of the state.
"Having the Speaker of the House of Representatives, the Executive Governor, and the speaker of the House of Assembly from Zone 1 and 2 respectively, anything short of the Minister coming from Zone 3 would mean gross injustice to the generality of the people of the zone, particularly, those of the APC stock," the group added.