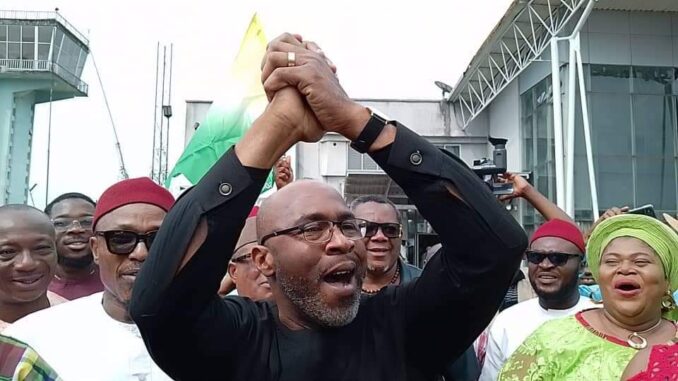 The gubernatorial candidate of the All Progressives Grand Alliance (APGA) Sir Tony Ejiogu has declared that he will transform the state if voted into office.
READ ALSO: Imo Guber 2023: 2019 Guber Fraud By APGA May Repeat Again In Labour Party — Ohanaeze Youth Warns
Specifically, Ejiogu said his focus is to ensure he solved the problems of the root causes of infrastructural decay in the state.
In an interview with journalists, Ejiogu, who highlited a bold move to address the pressing challenges facing Imo State, said as a young and visionary technocrat, who has emerged as a formidable gubernatorial candidate, said he has already designed his plan to move the state forward from day one.
Ejiogu, who said he is focusing on fixing the root cause of the state's problems, said he will not address the symptoms.
Recognizing the concerns raised by citizens of the state regarding the absence of healthcare and education, Ejiogu said such has already been captured in his 5-point agenda.
"If your house is on fire, chasing away the rodents is the least of your worries. We understand the critical state of affairs in Imo State.
"We know the importance of sectors such as healthcare and education. In addition, the underlying governance issues must be resolved first.
"Our house is on fire, and that is why we are where we are. The fundamental structures of governance have decayed to a degree that poses a threat to the very existence of the state. Lack of trust, productivity, and safety have become rampant issues, leading to the deterioration of facilities in various sectors," Ejiogu said.
Ejiogu emphasizes that he is not a career politician making grand promises of building roads and schools adding that his focus lies on fixing the government and establishing a working system where all aspects of governance are executed seamlessly with prudence and honesty.
"My 5-point agenda encompasses comprehensive reforms aimed at extinguishing the fire engulfing Imo State.
Our vision centres on bringing back a working government where trust is restored, productivity flourishes, and safety prevails," he added.