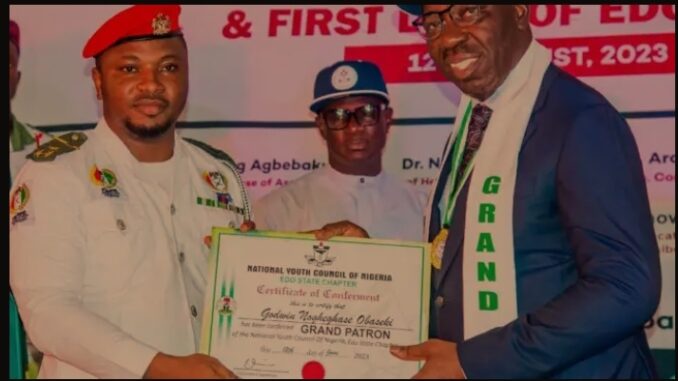 In recent times, the political landscape in Edo State has witnessed intriguing developments, specifically concerning the National Youth Council of Nigeria (NYCN).
Governor Mr. Godwin Obaseki unveiled an eye-opening revelation regarding his deputy, Rt. Hon. Comrade Philip Shaibu.
Allegations point towards Shaibu manipulating the NYCN election to further his personal goal of assuming the governorship.
The emergence of the previous EXCO for NYCN, Edo State chapter, gave rise to controversy.
Multiple youth groups protested against the imposed leadership, which led to chaos within the organization.
Governor Obaseki's intervention became crucial to restore order by dissolving the EXCO and initiating fresh elections.
This move aimed to rejuvenate the council and reestablish its integrity.
Delving into the depths of the crisis, Obaseki unveiled the clandestine actions of Shaibu.
Behind the scenes, Shaibu aimed to exploit the youth council for his political gains, all in pursuit of his grand ambition.
Obaseki openly apologized for the unauthorized incident, emphasizing that the manipulation stemmed from Shaibu's desire to wield the council's influence to achieve his political objectives.
The governor pledged a future of transparent and independently conducted elections.
Inspirational figures like Edo First Lady, Betsy Obaseki, shine a light on the potential of the youth.
Addressing the young minds, she reiterated their importance and how their contributions drive societal progress.
The first lady expressed unwavering confidence in the youth's ability to surpass expectations and create a positive impact.