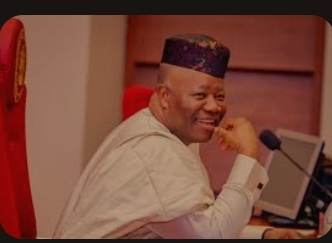 In a significant development, Senate President Godswill Akpabio expressed his commendation for the judgement delivered by the Presidential Election Petition Court (PEPC).
The verdict, delivered unanimously, firmly upheld the victory of President Bola Ahmed Tinubu and Vice President Kashim Shettima in the 2023 presidential election.
Akpabio characterised this Court verdict as a powerful affirmation of the Nigerian people's popular mandate, which was clearly expressed through their votes in February in favour of the All Progressives Congress (APC) ticket, helmed by Tinubu and Shettima.
Akpabio underlined the diligent efforts of the five-member panel in thoroughly evaluating all issues raised by the petitioners.
Their verdict adds to the integrity and credibility of Nigeria's electoral process. For impartial observers, it's evident that, despite its challenges, Nigeria's electoral system is steadily progressing.
Akpabio called upon all Nigerians and friends of Nigeria to appreciate and support this progress.
Furthermore, Akpabio urged all Nigerians to continue rallying behind the Tinubu government as it earnestly works towards fulfilling the Renewed Hope Agenda of the ruling All Progressives Congress (APC).
In his own words, Akpabio stated, "I applaud the judgement of the Presidential Election Petition Tribunal for upholding the victory of our President, His Excellency, Bola Ahmed Tinubu, and our Vice President, His Excellency, Kashim Shettima, at the 2023 presidential polls.
I also congratulate our great party, the All Progressives Congress (APC), on its vindication by this well-thought-out landmark judgement.
This judgement has expressly affirmed the popular mandate of the Nigerian people for our party the APC and its Presidential and Vice Presidential candidates, freely given at the February 2023 polls.
As the Court has painstakingly addressed all the issues raised by the petitioners, I urge all concerned to accept the judgement and join hands with the Tinubu government in its bold efforts to secure the wellbeing of our people."