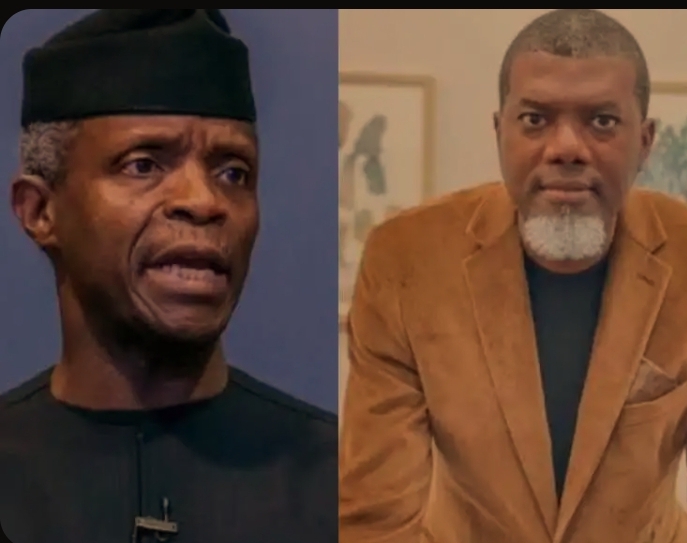 Former presidential aide, Reno Omokri, has slammed Vice President Yemi Osinbajo for advocating for an increase in the monthly retirement benefits of former vice presidents.
Naija News reports that Osinbajo during the valedictory session of the Federal Executive Council at the State House, Abuja, last week Wednesday, described their retirement benefits as a 'tiny amount of money'.
He had said "Part of the problem with that is that sometimes, you and I end up getting the very short end of the stick.
If you look at the laws today, our retirement benefits, yours (Buhari) will be N350,000 a month by law and mine will be N250,000 per month. Those, of course, as you can imagine are very tiny amounts of money.
"And I think that one of the things that we must do is to, perhaps, see how we can amend that law so that I will not come to you in Daura and ask for some of your bulls to sell in order to survive."
Reacting in a post via his social media page on Sunday, Omokri slammed Osinbajo for saying that the monthly pension of former vice presidents is insufficient.
According to him, Osinbajo chaired the National Economic Council (NEC) for eight years and he never called for a rise in the payment of Nigerian workers.
He noted that the VP was also a former University lecturer but failed to appeal to the government for a pay rise during their long ASUU strike.
He said, "Vice President Osinbajo is complaining that ₦250,000 monthly pension for him as an ex-VP is insufficient. Then how does he expect the man earning ₦30,000 minimum wage to survive? For eight years, he chaired the National Economic Council.
He never advocated for a pay rise for Nigerian workers. Now that he is about to go after attempting, and failing, to stab Tinubu in the back, he wants a pay rise.
Really? Under President Jonathan, ₦250,000 was equivalent to $1300. Today, it is just $300. And instead of the man who headed Nigeria's economic management team for the last eight years to be ashamed, he is asking us to feel sorry for him and give him a pay rise. Some people sha!
"Osinbajo, should take Shettima's advice and augment his income by selling sell ice cream! Osinbajo was a former lecturer at LASU and Unilag. When his colleagues were appealing to the government for a pay rise, he did not do anything.
He allowed them to go on strike for over a year. And what were they asking for? Less than ₦100,000 pay rise. Now, after destroying our economy for eight years, he is not contented with ₦250,000 monthly pension. Let him go on strike like ASUU. Maybe Tinubu will answer him"