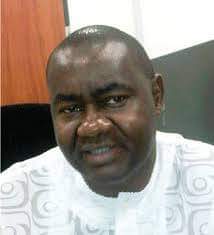 A chieftain of the All Progressives Congress (APC) in Rivers State, Rev. Christian Ahiakwo, has revealed that the governorship candidate of the Social Democratic Party (SDP) in the state, Senator Magnus Ngei Abe, withdrew his support for President Bola Tinubu, before the general elections because of his governorship ambition.
Recall that Abe dumped the APC and joined the SDP where he picked the governorship ticket and contested in the March 18, 2023 election in the state.
He later approached the Rivers State Election Petitions Tribunal to challenge the outcome of the polls, but announced the withdrawal of the petition few weeks ago.
Ahiakwo, who is one of the APC leaders in Ogba/Egbema/Ndoni local government area of the state, spoke in reaction to post on social media by the spokesman of the SDP Campaign Council in the state, Dr. Bethel Oko-Jaja.
He said: "It remains a fact that Abe withdrew his support from the Tinubu's campaign and placed his Governorship interest above Tinubu's Presidency, and that is why Chief Tony Okocha mounted as pilot to drive the ship to success.
"Thank God for Chief Ezenwo Nyesom Wike, who also threw his strength behind Chief Tony to enable the sound of victory in Rivers APC.
"There is no gainsaying that the Magnus Abe faction did not campaign for Tinubu, but mankind be truthful to thyself, Abe abandoned Tinubu at a time the party needed him more, for his self interest, above the party's interest."
The APC chieftain stated that members of the party in the state were comfortable with the leadership of the party under Chief Tony Okocha, with or without any appointment.
Ahiakwo said: "As APC members we are very comfortable with Chief Tony Okocha as our leader with or without any appointment, we are not beggars who depend on the crumbs of his master to survive.
"We are a political party and by his grace we have produced a President and that is enough ride for us to put ourselves together.
"We all made huge sacrifices to let go our relationships with Chibuike Rotimi Amaechi and others regardless of their power and financial affluence. We got here in pain but with joy that the two warlords could not take APC Rivers members to the promised land."