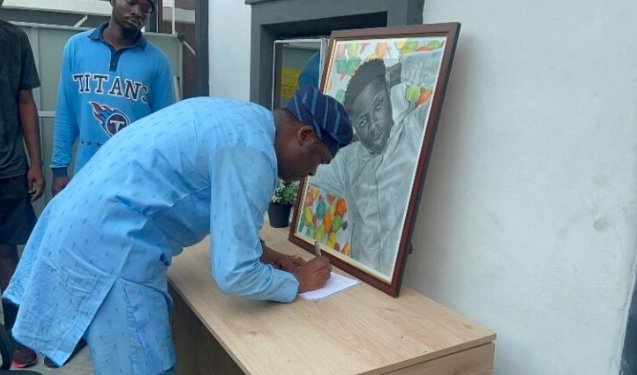 By Tambaya Julius
In an unexpected turn of events, Mohbad, the talented music sensation, met an untimely demise on 12th September, sending shockwaves throughout the nation.
Deputy Governor Dr. Kadri Hamzat, a prominent figure in the Lagos State Government, took the lead in a visit to Mohbad's family.
Alongside him were Chief of Staff Tayo Ayinde, Commissioner for Youth and Social Development Mobolaji Ogunlende, Commissioner for Information Gbenga Omotoso, and Special Adviser on Tourism Idris Aregbe.
During the visit, the Deputy Governor assured the grieving family that justice would be served, emphasizing that the Department of State Services (DSS) would collaborate with the police for a thorough investigation.
In a heartfelt announcement, Hamzat further conveyed the government's commitment to assisting Mohbad's family during this difficult time.
The well-being of Mohbad's child was also assured, reflecting the government's dedication to providing comprehensive support to the bereaved family.
Earlier that day, Governor Babajide Sanwo-Olu made a significant move by inviting the Department of State Services (DSS) to join forces with the police in the investigation of Mohbad's death.
This strategic decision aims to enhance the investigation through inter-agency collaboration and the utilization of cutting-edge technology.
In line with the governor's directive, the Lagos State Police initiated a robust investigation, assembling a 19-member panel to uncover the truth behind the musician's tragic passing.
Furthermore, the involvement of the Department of State Services (DSS) adds a new dimension to the inquiry, reinforcing the government's resolve to ensure justice is served.
The Lagos State Government earnestly appeals to individuals who may possess vital information pertaining to the circumstances surrounding Mohbad's death to come forward and assist the investigating team.
Maintaining the confidentiality and protection of witnesses is a top priority, ensuring that anyone with valuable insights can contribute without fear.
Amidst the ongoing investigation, the government implores friends and fans of the departed artist to remain calm and avoid making inflammatory statements or forming premature conclusions.
Respecting the grieving family's need for privacy during this challenging period is of utmost importance.