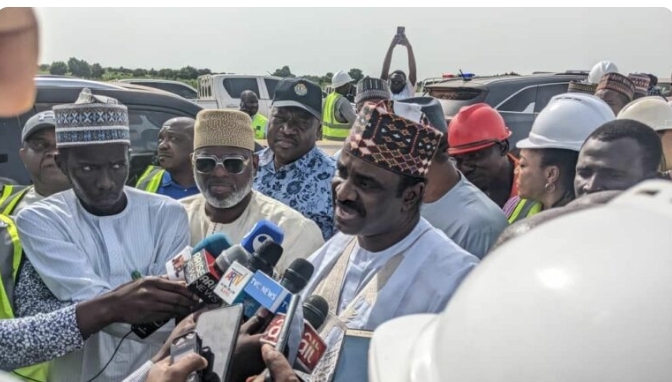 The Kano/Niger international rail project, a significant infrastructure initiative initiated during the tenure of former President Muhammadu Buhari in 2021, is rapidly progressing towards completion by 2025 under the diligent oversight of the Minister of Transportation, Senator Saidu Ahmed Alkali.
This colossal $2 billion project, aimed at fostering robust economic activities between Nigeria and Niger Republic, has its genesis in Dawaunu, Kano, and culminates in the vibrant city of Maradi in Niger Republic.
Its strategic importance in boosting trade and connectivity between the two nations cannot be overstated.
Senator Alkali, the driving force behind this monumental project, recently undertook a comprehensive inspection of the rail project, commencing from Dadinkowa village in Jigawa State.
His visit was marked by optimism and satisfaction at the substantial progress made thus far.
He expressed his confidence in the unwavering commitment displayed by the project's contractors, praising their dedication to delivering within the stipulated timeframe.
"I am impressed with what I have seen," he stated. "The major part of the work, including earth and bush clearing, is nearly complete. Hopefully, they will meet the 2025 target."
Addressing concerns about potential budget adjustments in light of the prevailing economic conditions, Senator Alkali emphasized the need for shared sacrifices.
He stressed that both the contractors and the Federal Government must contribute their fair share towards advancing the nation's development.
He stated, "Everyone has to contribute their own quota to the development of this country because we want to fix Nigeria."
Lead Contractor, Mr. Vladislav Bystrenko, offered insight into the project's intricacies.
He revealed that the contract, valued at $1.95 billion, involved meticulous planning, land surveying, and supervision before any funds were disbursed.
Mr. Bystrenko reassured that his team was resolutely committed to delivering this transformative project by 2025.
Senator Alkali's visit extended to the Muhammadu Buhari University of Transportation in Daura, Katsina state.
He applauded the university's remarkable progress in becoming a prestigious institution of higher learning.
Prof. Adam Umar, the Vice Chancellor, indicated that admissions to the university would commence in October, marking a significant milestone in Nigeria's educational landscape.
This transformative project, now well on its way to completion, holds the promise of revolutionizing connectivity, trade, and education.
It stands as a testament to the dedication of those involved and the shared vision of a brighter future for Nigeria and its neighboring nations.