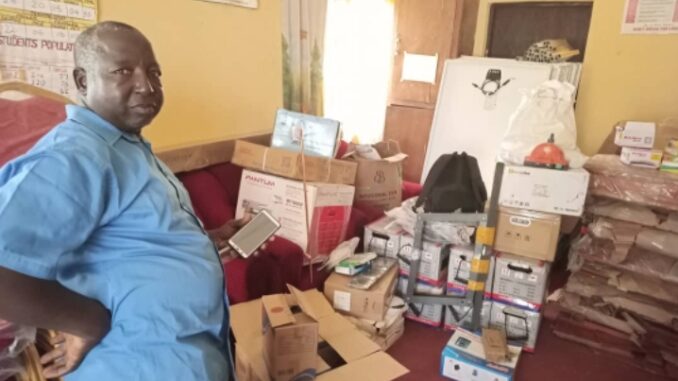 The National Information Technology Development Agency (NITDA) has commenced the establishment of a Digital Economy Centre (DEC) in Kafanchan, the administrative headquarters of Kaduna South Senatorial District.
Barely a month after receiving the green light from NITDA, Mr. Simon Yusuf, Principal of Government Secondary School Kafanchan Senior, has welcomed the arrival of materials crucial for the installation of the Digital Economy Centre.
This forward-thinking move comes as a result of the relentless efforts of Senator Sunday Marshall Katung, who successfully secured NITDA's approval to establish a 300-capacity women and youth training centre within his constituency.
Among the proposed project sites, the school in Kafanchan was deemed the most fitting candidate.
As the equipment arrived at the school premises, Principal Simon Yusuf expressed his profound gratitude to Senator Katung for selecting the school as the site for this transformative project.
He emphasized his commitment to ensuring the safekeeping of the equipment, highlighting its potential to grant students access to digital resources, thereby enhancing their learning experiences.
Mr. Yusuf proudly stated that more than 80 percent of the required materials have already been delivered, ensuring a smooth and timely setup of the centre.
In response to these positive developments, Senator Katung extended his appreciation to NITDA for their swift deployment of ICT equipment.
He recognized that this initiative is poised to cultivate a more digitally adept community, marking a significant step forward in the region's technological evolution.
The Digital Economy Centre in Kafanchan is poised to be a game-changer for the region.
Salama News reports that the state-of-the-art facility will encompass a wide array of resources and infrastructure, including:
Computers: Equipped with cutting-edge technology, these computers will serve as invaluable tools for education and skill development.
Internet Connectivity: High-speed internet will enable seamless access to online resources and empower the local community with the vast knowledge available on the World Wide Web.
Local Area Network (LAN): The establishment of a LAN will foster collaboration and efficient communication among users within the centre.
E-Learning Solutions: With e-learning solutions, the Digital Economy Centre will facilitate distance education and promote continuous learning.
Solar-Powered Inverter: Ensuring uninterrupted power supply, even in the face of electrical outages, is crucial for the centre's functionality.
Generator: A backup generator will further guarantee the centre's continuous operation, regardless of external factors.
This comprehensive suite of resources underscores the commitment to providing a conducive environment for learning and skill development in Kafanchan.