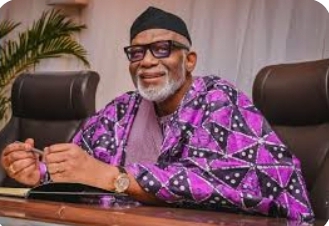 By Tambaya Julius
After an extended medical trip abroad, Ondo State Governor Rotimi Akeredolu has made a triumphant return to Nigeria.
Governor Akeredolu's absence due to his medical trip abroad had raised questions and concerns in the state.
However, a competent source within the government has now confirmed his return.
He landed in Ibadan, the capital of Oyo state, and is currently recuperating at his private residence.
Members of the state executive council are also making their way to welcome him back.
This return marks a significant moment for Ondo State as it signals the governor's readiness to resume his leadership duties.
Governor Akeredolu initially embarked on his medical trip to Germany with plans to return on July 6, 2023.
However, the prolonged stay abroad led to controversy and political debates within the state.
In the absence of Governor Akeredolu, the reins of leadership were temporarily handed over to his deputy, Lucky Aiyedatiwa.
He assumed an "acting capacity" role to ensure the state's smooth governance until the governor's return and certification of fitness by his medical team.