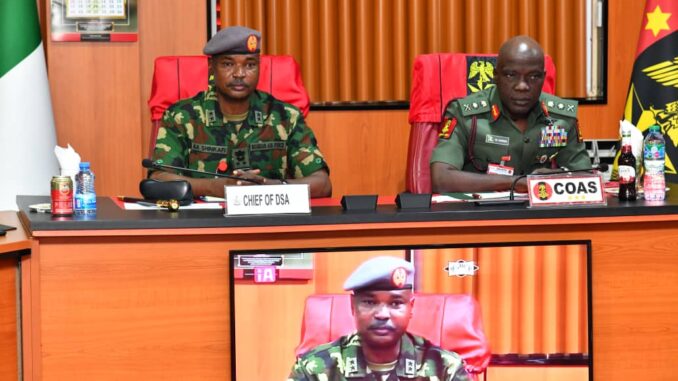 The Chief of Army Staff (COAS), Lieutenant General Taoreed Lagbaja, revealed the NA's commitment to intensify its collaboration with DRDB during a meeting held on Thursday, 7th September 2023.
In separate discussions, he hosted Major General Emmanuel Ndagi, the Director General of DRDB, and Air Vice Marshall Abdullahi Shinkafi, Chief of Defence Space Administration, at the Army Headquarters in Abuja.
General Lagbaja acknowledged the vital role played by DRDB in coordinating Research & Development efforts across the Armed Forces of Nigeria.
He expressed the NA's eagerness to partner with the Bureau to advance research into Counter Improvised Explosive Devices (IED) apparatus.
This initiative aims to save lives and protect equipment in the field, aligning with the NA's mission to defend Nigeria's territorial integrity.
Furthermore, General Lagbaja emphasized the paramount importance of bolstering the operational efficiency of troops, a crucial step in fulfilling the constitutional responsibilities of the NA.
Partnering with DRDB opens doors to cutting-edge technologies, strategies, and practices that will elevate the NA's operational capabilities.
Major General Emmanuel Ndagi, DG of DRDB, reiterated the purpose of their visit – to strengthen collaboration with the NA.
He emphasized DRDB's core mission: coordinating Research and Development activities within the Armed Forces with a strong emphasis on nurturing indigenous technological capacity.
Lieutenant General Taoreed Lagbaja also welcomed Air Vice Marshall Ahmed Shinkafi, Chief of Defence Space Administration, to the Army Headquarters.
During this meeting, the COAS expressed gratitude for the DSA's support in providing Space and cyber assistance to the NA and other Services.
He underscored the critical role of the space and cyber domains in modern warfare, with a growing concern over cyber threats.
General Lagbaja stressed the necessity for the NA to develop the capabilities required to defend against potential cyber threats and attacks.
He assured the DSA of continuous collaboration, ensuring effective presence in the cyber space.
Additionally, he committed to extending DSA's products to NA formations and units, facilitating land operations.
Air Vice Marshall Ahmed Shinkafi, Chief of Defence Space Administration, commended the Nigerian Army's support for infrastructural development and cyber warfare at the DSA.
This collaboration holds the promise of enhanced operational efficiency, technological advancement, and safeguarding the nation's cyber space.
Author: Onyema Nwachukwu
Director, Army Public Relations
7th September 2023