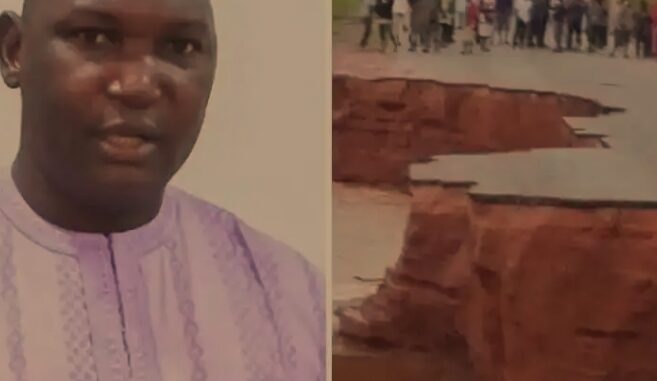 Former National President of the Youth Wing of the Christian Association of Nigeria (YOWICAN), Engr. Daniel Kadzai, has raised a significant concern regarding the perilous state of the federal road connecting Bauchi and Gombe State.
This article sheds light on the hazardous conditions of this road, the additional hardships faced by commuters, and the call for immediate action.
One of the most alarming issues plaguing the Bauchi to Gombe federal road is the deteriorating bridge that links the two states. Engr. Kadzai highlights that this bridge has washed away, posing a grave threat to the safety of motorists and all road users.
This critical infrastructure failure demands immediate attention and repair to prevent further accidents.
Due to the deplorable condition of the main road, commuters traveling between Bauchi and Gombe States are forced to take a detour through Kari community to reach Doukku local government area.
This alternative route adds a staggering 140 kilometers to the journey, significantly increasing travel time and expenses.
The economic implications of this situation are dire, especially in the face of the current fuel pricing regime that has already burdened the people with increased costs.
Engr. Kadzai emphasizes the urgent need for a solution to this problem, urging the federal Ministry of Works to take action promptly.
Engr. Kadzai proposes a practical approach to address this issue.
He suggests that if the federal Ministry of Works cannot handle the repair work promptly, they should engage local engineers who possess the knowledge and expertise to tackle the problem effectively.
This not only promotes community involvement but also expedites the repair process.
While commending the Gombe State government for its initiatives in fixing the state-owned roads and beautifying the entire region, Engr. Kadzai stresses the importance of federal government intervention.
He believes that the federal government must complement the state's efforts by repairing the dilapidated federal roads that intersect with the state.
Engr. Daniel Kadzai's call for immediate action and his suggestion to engage local engineers provide a potential path towards resolving this pressing issue.
It is imperative that both state and federal governments collaborate to ensure the safety and well-being of all road users on this crucial route.
Bauchi to Gombe federal road
Bridge deterioration
Local engineering solutions