According to thePUNCH NEWSPAPER, the Supreme Court of Nigeria has sacked Hon. Ifedayo Abegunde representing Akure South/North in the Federal House of Representatives.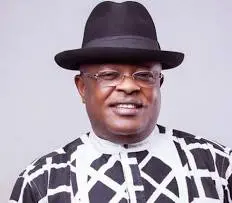 His sacking was because he defected from Labour Party (LP) which is the party he was elected to the ruling party APC in Ondo State.
The Supreme Court judgement on the defection of Hon Ifedayo Abegunde, from his party (LP) to APC, is an indication that Ebonyi, Zamfara and Cross River State Governors should know that their days of being the governor of their various states are numbered.
The Ebonyi State Governor David Umahi for instance has approached an Appeal Court to seek readdress over his sack by an Abuja High Court presided by Justice Inyang Ekwo.
Should Umahi's hope been ressucitated by the Appeal Court, Supreme Court may over turn it, like it did with the case of Hon Ifedayo
For Zamfara state, the Federal High Court Abuja has already fixed April 8 for adoption of final address in PDP's suit against Governor Bello Matawalle of Zamfara State.
The Judgement of Justice Inyang Ekwo of Federal High Court on Ebonyi State on Tuesday, is said to have sent fever to the Cross River State Governor. As Ben Ayade who was elected under PPD, decamped to APC.
Don't forget to share this article with you friends, what do you think that governor of Cross River, Ebonyi and Zamfara states should do