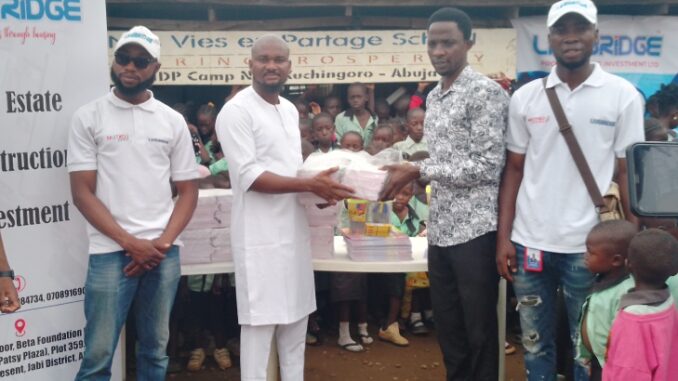 By Tambaya Julius
In a heartfelt display of compassion and commitment to corporate social responsibility, Livebridge Properties and Investment Ltd, an esteemed estate company, extended a helping hand to the displaced residents of the Kuchingoro IDP Camp in Kaura District, Abuja.
Livebridge Properties' charitable initiatives at the Kuchingoro IDP Camp include medical care for 1000 residents and essential educational materials for 280 pupils. Learn how this act of kindness is making a difference.
To commemorate the birthday of their MD/CEO, Mr Obinna Nwaneri, the company organized a comprehensive medical outreach at the Kuchingoro IDP Camp.
This annual event aims to address the pressing medical challenges faced by the displaced individuals residing in this camp.
Recognizing the importance of education, Livebridge Properties took another commendable step by donating essential educational materials to the school within the IDP Camp.
These materials, including exercise books, crayons, pencils, and textbooks, are invaluable for the 280 pupils attending the camp's school.
As schools had recently resumed, many parents lacked the means to provide their children with necessary learning materials.
Education remains a cornerstone for the development of any society. Mr Nwaneri emphasized the pivotal role education plays in shaping the future. He expressed concern for these young minds, highlighting that they are the leaders of tomorrow.
Livebridge Properties' dedication to their education ensures that they are well-equipped for the challenges that lie ahead.
Beyond their corporate social responsibility, Livebridge Properties believes in making a meaningful impact on the lives of displaced individuals.
They have called upon the government to establish schools in IDP Camps nationwide, emphasizing the need to nurture the potential of those who have been displaced from various regions.
In total, Livebridge Properties provided medical services, including vital drugs, to over 1000 residents during their outreach program.
This included individuals who have faced displacement from various regions, including Borno and Nasarawa. The company acknowledges its duty, both as individuals and organizations, to contribute to the safety and well-being of the displaced persons.
The head teacher of the Kuchingoro IDP camp school, Luka Yaduma, expressed immense gratitude for Livebridge's support.
He urged fellow Nigerians and the government to extend their assistance to these displaced individuals. All the teachers in the school volunteer their time, underscoring the need for collective action to support these vulnerable communities.
The students at the camp's school, like Faith Amos and Yakubu Philip, shared their heartfelt gratitude towards Livebridge Properties and their CEO for the invaluable educational materials.
Hannatu Katghaya, a beneficiary of the medical outreach, expressed her thanks for the medical care received. Their voices resonate with hope and appreciation.
Livebridge Properties and Investment Ltd, through their benevolent actions, have brought hope and support to the lives of those in need.
As a beacon of compassion, their commitment to corporate social responsibility serves as an inspiration to all, emphasizing the importance of giving back to the community and uplifting those facing adversity.